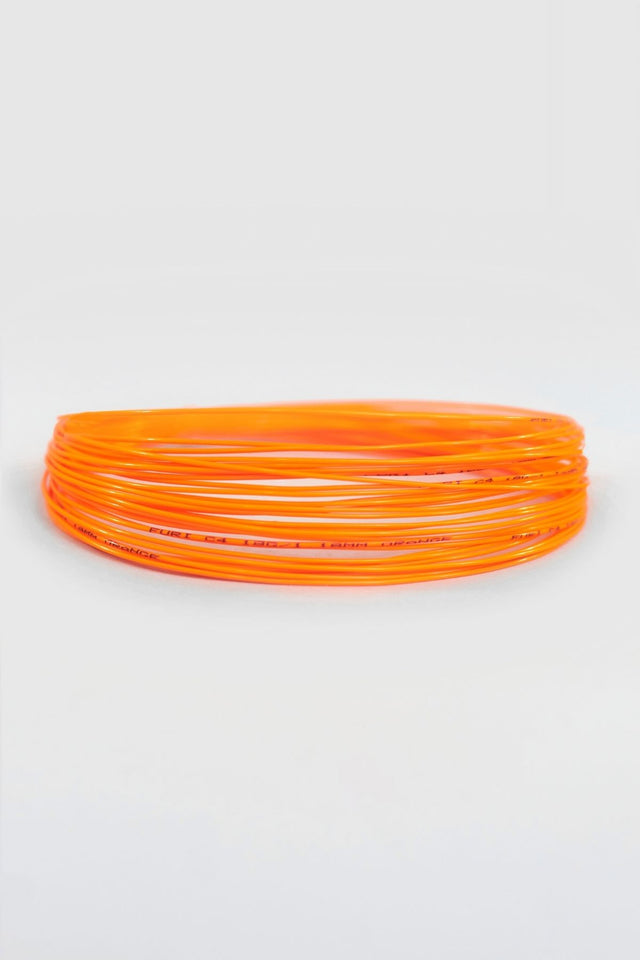 DESCRIPTION
The C4 is a co-polyester monofilament round-shape string that combines explosive power, ultimate comfort, and great tension maintenance. Designed with the fast-paced, modern game in mind, the bright orange color makes a bold style statement and guarantees you'll always stand out on court.
The C4 is comparable to the Luxilon ALU Power, Luxilon ALU Power Fluoro, and the Yonex Poly Tour Rev.
Reviews: Tennis Spin  |  Mark Sansait
If you're not sure which gauge to choose, we recommend play testing the 17g.
PRODUCT DETAILS
18 GAUGE - The thinnest gauge in the C4 family, the 18g string provides maximum feel and comfort.

Diameter: 18 gauge / 1.18 mm
Length: 40 ft / 12.2 m

17 GAUGE - Our most popular gauge in the C4 family, the 17g string provides a balance of feel, comfort, and durability.

Diameter: 17 gauge / 1.23 mm
Length: 40 ft / 12.2 m

16 GAUGE - If you're a chronic string breaker, the 16g in the C4 family is for you. The 16g provides a balance of feel, comfort, and most importantly, maximum durability.

Diameter: 16 gauge / 1.28 mm
Length: 40 ft / 12.2 m
C4 INDIVIDUAL SET (ORANGE)